Dining, Cafés & Confections
Restaurants in St. Thomas include Café Amici, Calypso Café, Virgin Islands Ice Cream Company & The Belgian Chocolate Factory―all located at A.H. Riise Mall.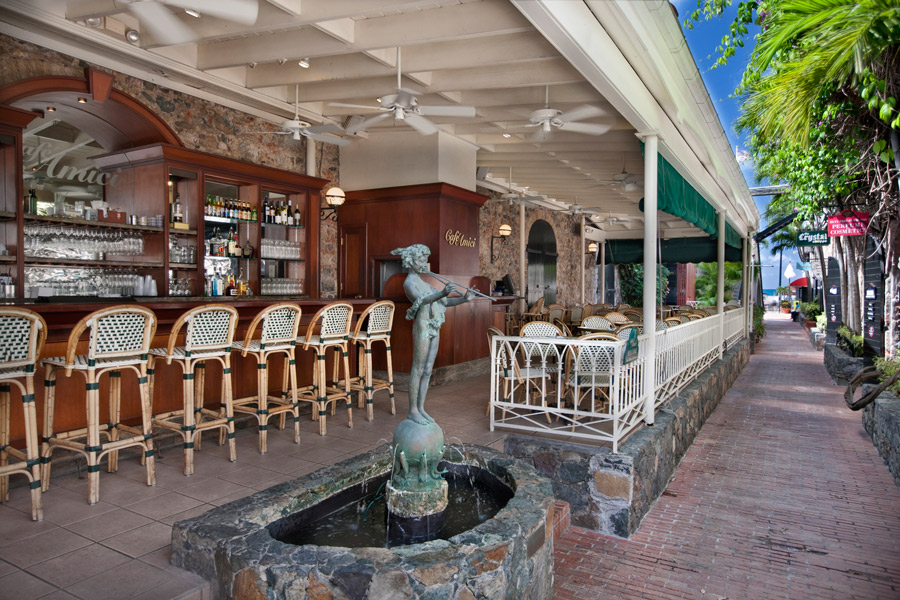 A charming, open-air café offering fresh salads with seafood, grilled chicken or beef, house-made bistro style pizzas and pastas to order. Tropical frozen drinks & martinis are their specialty!
340-714-7874 | cafeamicivi.com
"Home doesn't seem so far away when you can find a good cup of coffee"
Serving Espresso, Latte & Cappuccino
Freshly brewed Caribbean & other specialty Coffees
Hot and iced traditional and herbal teas
Breakfast & lunch sandwiches prepared fresh to order
Fresh baked cakes, cookies and pastries, including local specialties
Located next to the Virgin Islands Ice Cream Shop.
Virgin Islands Ice Cream Company
Come taste Danish styled ice cream here in tropical St Thomas! Enjoy the sun and heat and cool off with wonderful flavors, from traditional to caribbean specialties like Soursop, Coconut and Mango Sherbet.
The Belgian Chocolate Factory
The chocolates are made with the finest ingredients free of preservatives or additives. Each chocolate is hand made using traditional methods and are filled with a variety of specially prepared ingredients including praline, ganache, fruits and caramel; available in over 50 varieties! Also available are gift boxes, "peace, love & chocolate" t-shirts and seasonal specialties. Satisfy your craving & indulge!
340-777-5247 | thebelgianchocolatefactory.com